How to Deal With Toilet Overflow
8/7/2020 (Permalink)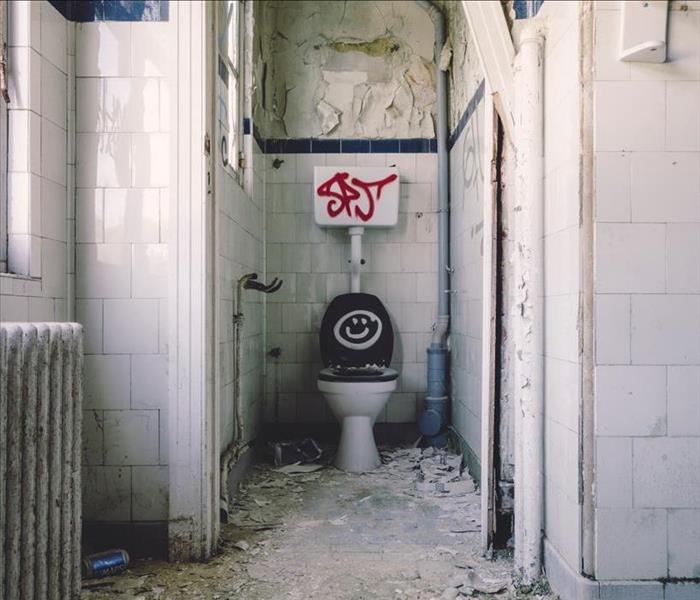 In some cases, it is possible to handle a toilet overflow on your own if it only requires a simple fix and minimal cleanup.
It goes without saying: No one wants to deal with a toilet overflow. It's unpleasant, messy, and something that you want to avoid at all costs. The consequences of a toilet overflow can be devastating, damaging bathroom floors and even leaking down into the ceiling below. Keep reading to learn more about why toilets overflow in order to avoid disaster or, if you've experienced a toilet overflow, make sure that it doesn't happen again.
What Causes a Toilet Overflow?
Several different events can trigger a toilet to overflow, including a clogged drain, a blocked vent, and sewage complications.
A clogged or blocked drain prevents proper flushing, causing the toilet to overflow. In this situation, plunging the toilet may relieve the problem.
Every time you flush, air is pumped and needs replacing from the vent pipe. If the vent pipe is blocked, proper flushing isn't possible and can eventually result in a toilet overflow. This issue usually requires the help of an experienced plumber.
Finally, two issues related to sewage, a clogged sewer line and a full septic tank, can be the catalyst of a toilet overflow. A clogged sewer line occurs when the sewer line becomes blocked by items ranging from tree roots to sanitary wipes. A full septic tank can be problematic, as excess water will have nowhere to go but back up into your home, potentially resulting in a toilet overflow.
How to Clean Up
After you've expressed your fair share of "ew gross!"s, it's important to quickly clean up a toilet overflow in order to best protect your home from serious water damage. Before taking any action, make sure that the overflow has stopped and that the water is turned off. Then, clean up standing water as quickly as possible using a wet vacuum, a mop, or towels. The longer water sits on a surface, the more damage it may inflict. After this, dry out the bathroom to your best ability using a high-power fan to eliminate moisture and prevent growth of mold and mildew. Finally, clean and disinfect the affected surfaces as well as any surfaces situated close by.
We're Water Damage Specialists
In some cases, it is possible to handle a toilet overflow on your own if it only requires a simple fix and minimal cleanup. However, if your toilet overflow has created a major problem, it is necessary to call a professional for help. SERVPRO's team of experienced and trustworthy water damage experts will arrive quickly and restore any and all water damage resulting from a toilet overflow. Click here to learn more about our trusted water damage services.