What To Do After A Fire: Moving Forward With Preparation
2/2/2021 (Permalink)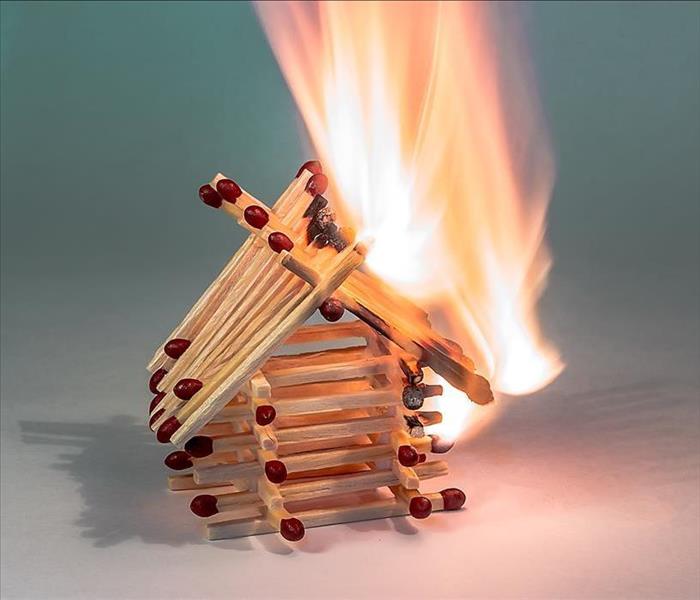 Residential fires are undoubtedly overwhelming and devastating. It may seem as though there is chaos around every corner, leaving you unsure of what to do. You are eager to do whatever you can to get your home and your life back to normal, but one wrong step can actually do more harm than good. It's crucial to do everything possible to protect your home from additional damage, so keep reading to learn about some helpful things that you can do when dealing with the aftermath of a fire, as well as measures that you can take to protect your home from a future fire.
Fire Damage Restoration Tips
Taking these steps can help facilitate the restoration process.
Keep Movement to a Minimum
Moving around in your home as you normally do kicks smoke and fire soot particles up into the air, which can be detrimental to your carpets, fabrics, and upholstery. Therefore, limit movement or be careful when inside of your home.
Don't Attempt to Clean Without Professional Guidance
Cleaning without the guidance of a professional may actually do more harm than good for your home. Consult expert fire damage cleaners before attempting to wash walls or carpets after a fire. Additionally, don't attempt to clean electronic devices or appliances after a fire if they have come in close contact with fire, water, or intense heat. These appliances can be dangerous if they have been damaged.
Keep Hands Clean
This one may come as a no-brainer, but it's important to keep your hands clean when handling objects in your home after a fire, as you may expose them to fire soot particles, which can cause additional, unnecessary damage. It may be beneficial to handle items with clean gloves to further decrease this risk.
Preventing Future Fires
Although repairing and restoring your home to its pre-fire condition is crucial, it is equally important to protect your home from future fire damage or smoke damage. According to the American Red Cross, the following actions can be beneficial in protecting your home from a devastating fire for years ahead.
Check on Your Smoke Detectors
Make sure that your smoke detectors, which should be placed in multiple places within your home, are functional and have their batteries changed regularly. It may also be beneficial to install interconnected smoke alarms so that when one alarm goes off, so do the others.
Fire-Proof Your Home
When furnishing your home, you can decrease the chances of a fire spreading in your home after igniting by choosing pieces that are fire-resistant. It doesn't have to stop at a fire-resistant couch. You can even buy fire-resistant decorative plants!
Limit Fire Risks
You can protect your home from future fires by making small changes to your everyday home activities, such as using electronic devices and heating your home. Don't let frayed cords or wires continue to be used, even if they appear to still be functional. Instead, take the safer route and replace them ASAP. During the winter, make sure that your stove tops, chimney, or other heating sources are clean prior to use.
Fire Damage? Call SERVPRO
If your home has experienced devastating fire damage or smoke damage and you feel unsure of what to do, call SERVPRO of Hunt Valley and Harford County at (410) 229-0012 to get the ball rolling with our remediation fire damage services. We'll provide a full fire damage assessment, as well as the professional guidance that you need. During such uncertainty, let us help you get back on your feet by handling the fire damage cleanup and restoring your home to normal as quickly as possible. Check out our website for more of our expert Fire Damage Restoration Tips.